Every so often we get a product into the shop that really excites us as a team. The most recent example is the Yorkshire Pasta Company. We love that they are a British, A family company and that they are super passionate about what they do. They like us are working in a different way to the "industrial manufacturers have lost touch with the traditional techniques, opting for rapid, high-throughput methods."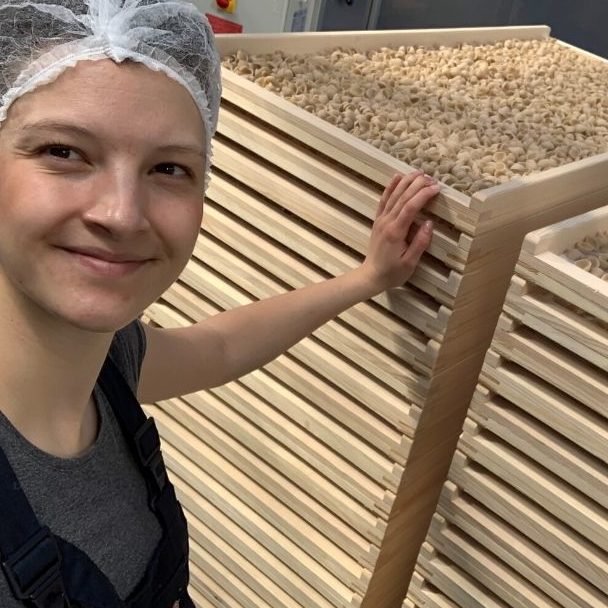 They've only been around for a year but they are a really slick operation. They've got absolutely beautiful branding and are focused on providing sustainable & green food products. Reading through their website you can't help but get excited about their product:
"Having spent many hours studying the high quality pasta producers of Italy, often family run artisan businesses themselves, we have learnt, practised and refined their traditional methods. Combining these techniques with our locally milled wheat flour ensures that we create the most superb tasting and perfectly textured YORKSHIRE PASTA every time."
They produce five lovely varieties of premium pasta. Fusilli, Penne Rigate, Conchiglie Rigate, Tortiglioni & Mezze Maniche. Below I am going to go through what their varieties are. I will also go through what dishes you should serve them with.
The Yorkshire Pasta Company is really really proactive on being good to the environment. They use green energy and wherever possible use the most ethical and environmentally friendly ingredients. They also have 100% recyclable packaging which is just another bonus. I am already in love with this brand!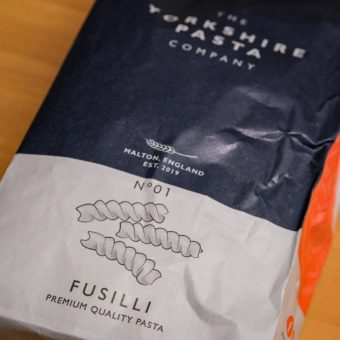 Fusilli is also known as Rotini in the U.S means 'spindles'. It looks like a corkscrew and is the pasta you are probably most used to using beyond Spaghetti and Macaroni. Fusilli is a swirly design and a really textured surface that is perfect or holding the maximum amount of sauce. Growing up I used to just call it "curly pasta". Yorkshire Pasta Company recommends eating these little gems stirred into a punchy Bolognese sauce. My mouth is drooling just thinking about it.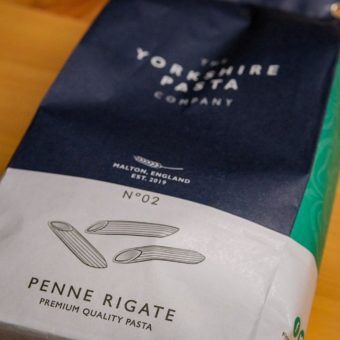 In my mind the absolute classic pasta is Penne but not to be confused with Mostaccioli or Ziti. Yorkshire Pasta Company makes their Penne 'Rigate' (the name means ridged). Rigate helps the little tubes of pasta-ry goodness hold its shape and soak up the sauce. 'Penne' comes from the Italian word for quill and the angled end encourages even more sauce to be scooped up. Penne Rigate is the perfect pasta for a traditional Italian Pasta Bake. think of some lovely French onions, black garlic, cured bacon mixed with Yester Dairies Crème Fraiche topped with their mozzarella.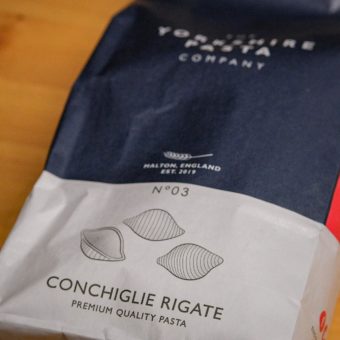 Conchiglie Rigate holds sauces more than any other pasta due to the rigid outer and deep cave-like interior. It looks exactly like shells that you'd see on the seashore. The name comes from the Italian word conchiglia which translates to the English "Conch". This might conjure memories of "Lord Of The Flies" and "The Conch" (RIP Piggy). Both these words share the same Greek root in the form of κοχύλι (kochýli). They are excellent with lighter sauces that need a bit of extra help to be scooped up with each mouthful. The Yorkshire Pasta Company say that Conchiglie Rigate is
"the basis for the most awesome twist on 'Mac 'n' Cheese'; each piece oozes cheese and those oh so cheeky bacon pieces seem to magically hide in the centres for an exhilarating crispy surprise."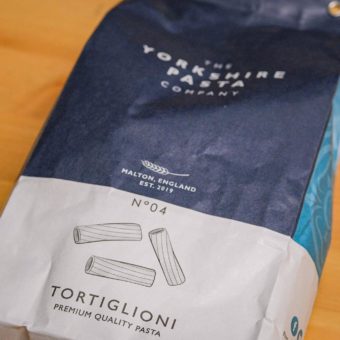 Tortiglioni is one of the many variations of Maccheroni and similar to Rigatoni but a fair bit larger. Tortiglioni has more pronounced grooves that actually swirl their way around the pasta. Hence their name, which stems from the Latin 'torquere', meaning 'to turn'. Perfect with simple sauces, zesty salads, and fish dishes. Big, bold, and mighty in appearance, texture and taste.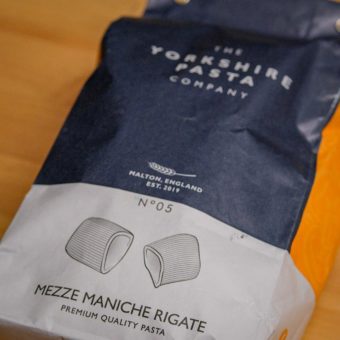 Mezze Maniche Rigate is delicious ridged tubes that are about as wide as they are long. This pasta has furrows just like a field of tatties down the outside. Not the most popular shape of pasta and rarely appreciated outside of Rome. Mezze Maniche Rigate is making its British debut in Yorkshire, who would have thought it? They say that Mezze Maniche Rigate is capable of holding pretty much every sauce under the sun. They recommend it for all sauces from substantial and meaty to creamy and velvety.
LINKS AND SOCIALS FOR YORKSHIRE PASTA COMPANY:
Web | Insta | Facebook | Twitter | LinkedIn | info@yorkshirepasta.co.uk