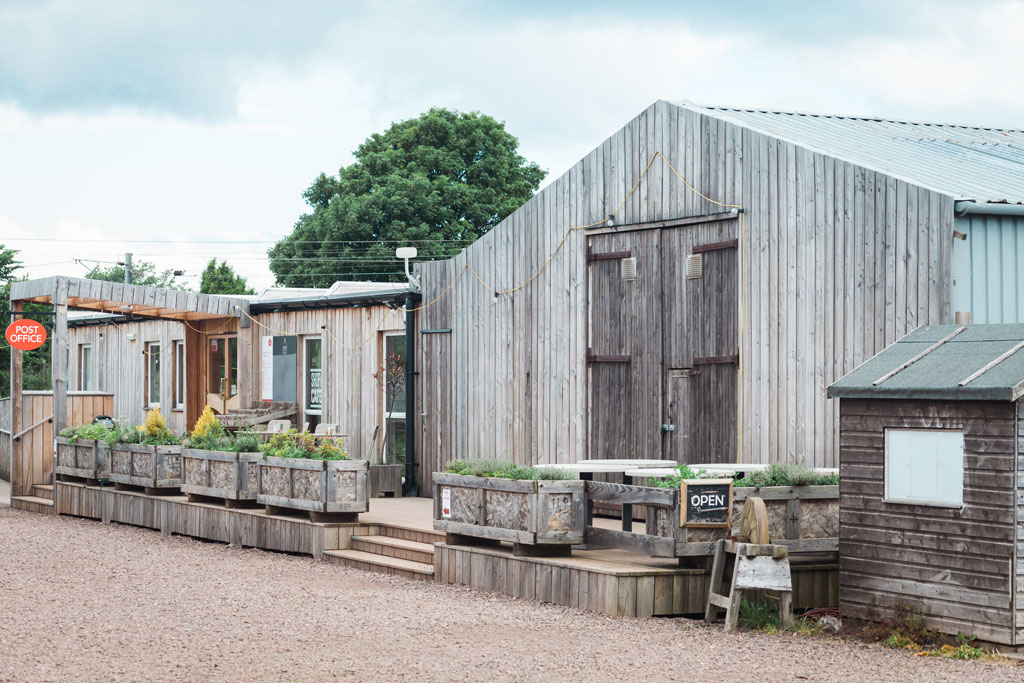 A gourmet greengrocer on your doorstep
The Mart Farm Shop boasts a fantastic gourmet grocery section with an assortment of artisan and everyday products. We stock fruit and vegetables, meat, dairy, eggs, artisan cheese, and specialty foods. You'll only find the best produce available, always focusing on local and sustainable first. At our grocery store, we aim to cater to varied dietary requirements. We stock a wide range of vegetarian, vegan, gluten-free and lactose-free goods. From doing your big weekly shop of fresh greens and pantry essentials to buying a foodie gift, our gourmet grocery store has it all.
Local and seasonal first
We believe Scotland, and particularly East Lothian, is home to world-class food producers. We love our community and want to share what East Lothian has to offer with everyone who visits us. That's why our mission is to bring you the best of East Lothian first, before turning to quality grown in other regions in Scotland. Finally, only the finest fare from Britain and the rest of the world make the cut.
What's more, we prioritise local produce because it's the environmentally friendly choice. For you, eating seasonably doesn't mean a sacrifice in quality or expensive prices. In fact, it's budget-friendly. Your money isn't wasted on transporting, refrigerating and packaging greens grown far away. Instead, you pay for what you get: fresh, flavoursome food that varies according to the seasons. You also get the added benefit of doing your bit to combat global warming.
About our fruit and vegetables
Our commitment to seasonal food means we only sell the freshest fruit and vegetables. We choose all our products based on flavour, not shelf life. What's more, we work closely with East Lothian growers to ensure our fruit and vegetables are grown as nature intended. Our farmers don't use harmful supplements, pesticides or herbicides. We label our goods with their organic/non-organic certification and their origins. This means you can make informed decisions while you shop. Last but not least, our fruit and vegetables generally come without unnecessary packaging. You can skip that extra trip to the recycling bin!
Free-range meat and poultry
We supply trusted favourites like Linda Dick's chicken, Findlay's sausages, Inverawe fish and Great Glen Charcuterie. Our farmers feed their animals naturally and raise them with compassion.
The Deli and beyond 
Our delicatessen will delight you with fine foods from artisan, award-winning, and local suppliers. We've got everything you need for a tapas-style feast, from quality olives, salads, pâtés and hummus, to freshly-baked bread. You'll also find home-made pies, quiches, soups, and excellent Chinese meals. And finally, cheese – what would life be without it? At The Mart Farm Shop, we have a counter heaving with specialist cheeses. You'll find a dreamy variety of Scottish and British cheese and only the choicest European cheese. For the more adventurous palette, our international section is ready and waiting for your visit.
Easy ready meals
Let's be honest: most of us don't have the time to cook seven nights a week. That's why we now sell a range of home-made ready meals. You can heat and serve these fresh, delicious meals when you're pressed for time, or when you don't fancy doing the washing up. No one will know the difference, because our ready meals are home-made – they're simply made at our home and served at yours. For those with a sweet tooth, you can finish off your main with one of our tantalising desserts.
Delivery
Another great time-saver is our delivery option. Our food delivery is organic where possible and always sustainable. We offer handpicked boxes, where you select exactly what you want and we deliver it to you. We also offer standard vegetable boxes. We serve East Lothian, and selected areas of Midlothian and The Borders and charge £3 for delivery. You're welcome to click & collect, too. We are hoping to expand into Edinburgh from Autumn 2021.